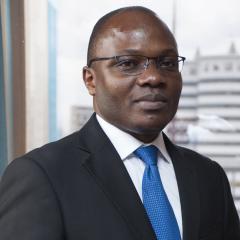 Organization: Kenya Bankers Association
Designation: Head of Legal and HR
Raimond Molenje, Head of Legal, Human Resources and Industrial Relations @Kenya Bankers Association.
Has over 16 years' experience in both legal and human resources practice having worked as a practicing advocate, corporate in-house Legal Counsel at a government parastatal, several legal, HR and labour relations roles. Prior joining KBA he was HR Advisor at De La Rue Currency and Security Print; Group HR Manager, Employee Relations at Equity Bank and Legal Manager at Federation of Kenya Employers (FKE).
Molenje is an Advocate of the High Court of Kenya, Commissioner for Oaths and Notary Public and Lecturer at the College of Human Resources Management. He is also a Board Member with: Auctioneers and Licensing Board and Mediation Accreditation Committee of the Judiciary. He is a practicing member with both Law Society of Kenya (LSK) and Institute of Human Resource Management (IHRM).